End of life and medical crisis notification has not kept pace with an increasingly interconnected world.
My Life Talks corrects this imbalance as it is the only app/web platform providing near real-time notification to family, friends, and personal stakeholders.
My Life Talks also serves as a planned giving tool driving gifts to recognized 501(c)(3) nonprofits chosen in advance by the user. This eliminates donor confusion.
My Life Talks provides a simple solution to real-time death notification. Users preload messages onto the MLT app (currently available for download on Google and Apple stores). When a medical emergency or death occurs, a pre-selected trustee enters a unique code that activates the transmission of the message. The message can go out as a text to contacts pre-selected by the user.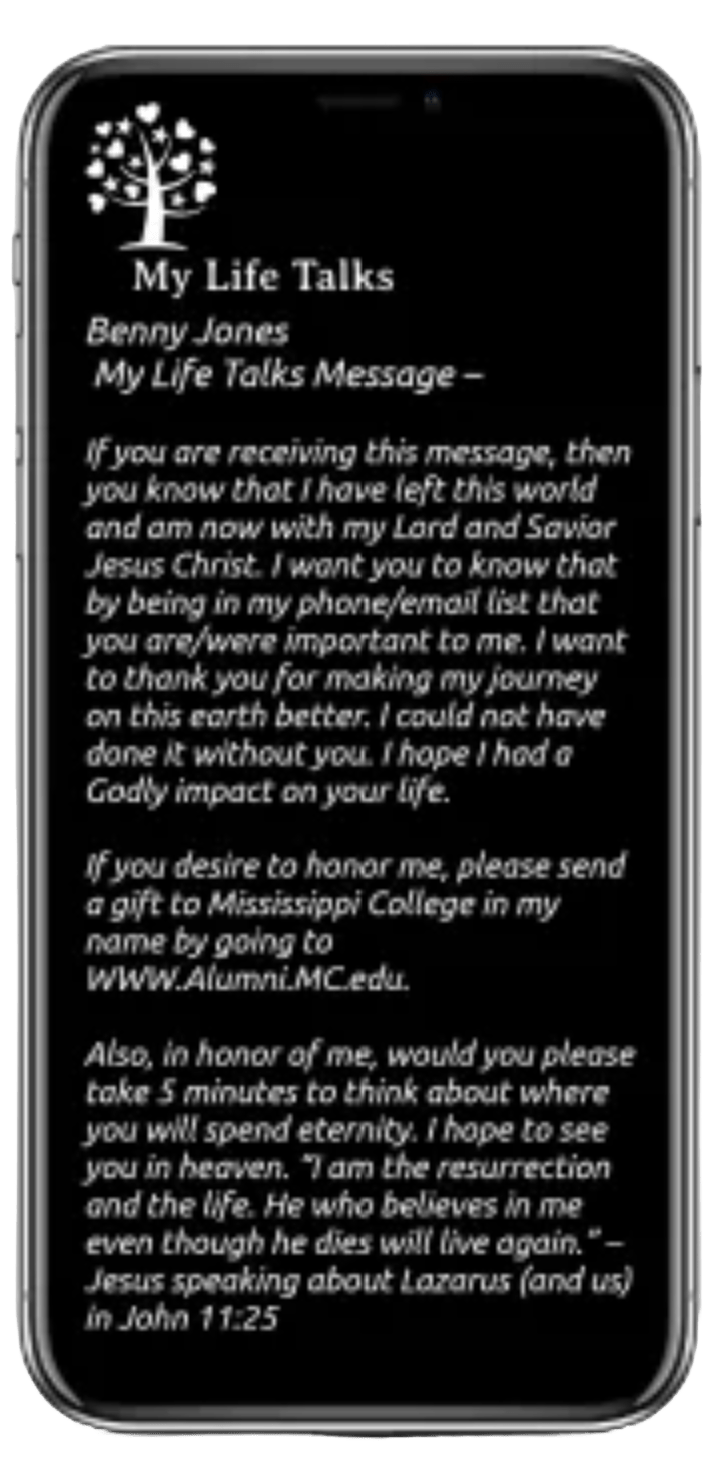 Real-time messaging through text and email upon your death. Trustees send a text message to your pre-selected contacts list.
Set up a distribution of resources
Designate a preferred donor at ones passing
My Life Talks exists to bridge an important gap in the way we share the news of a loved ones passing.
With compassion, support, genuine connection, and charitable hands, we have created a platform to do just that.
Dr. Benny Jones is a native of Mathiston, Mississippi and since 1990 is a resident of St. Charles Parish. He received his Ph.D. from the New Orleans Seminary. He is married with two children. His wife is a CPA. He is the former director of the Greater New Orleans Fellowship of Christian Athletes and served as State Director for 10 years. He has worked closely with a galaxy of stars including Coach Joe Gibbs, Archie Manning and Bobby Bowden. He is a member of the Fore!Kids Foundation which hosts the Zurich PGA event in New Orleans, Benny is also a 20-year football referee and 12-year baseball umpire. He is a passionate supporter of his community and has worked as a volunteer for decades in and around New Orleans.
Technology to ease life's challenges